Should fast-food nutritional labelling in South Africa be mandatory?
Abstract
Objectives: This study aimed to: (i) determine the proportion of fast-food restaurants that provide nutritional information, (ii) describe the nutritional information of similar food items and meal combinations across the fast-food restaurants, (iii) and use a graphical labelling system to describe these data.
Methods: Thirty-one of the biggest fast-food restaurants in South Africa were included to estimate the proportion of those that provided nutritional information on their websites/outlets. Energy, protein, fat, carbohydrate, salt and sugar nutrient
compositions were compared for similar food items (burger or pizza), and a meal combination that included burger/pizza, medium-size fried chips and a sugar-sweetened beverage. The UK Traffic Light labelling system was used to compare fat,
salt and sugar across restaurants.
Results: Only 58% of the restaurants provided some form of nutritional information. While all burgers were high in protein, some were also high in fat, salt and sugar, as indicated by percentages of the nutritional reference ranges above 30%.
Similarly, this was the case for pizzas. All meal combinations particularly exceeded the total recommended energy, carbohydrates, sugar and salt content, and most also exceeded the recommended fat content.
Conclusions: Consumption of popular South African fast foods may disproportionally contribute to the daily intakes of total energy, fat, salt and sugar, especially when consumed as combination meals including fried chips and sugar-sweetened
beverages.
Recommendations: Consumers should limit their fast-food intake and avoid eating meal combinations. The South African Government's commitment to curb the rise of non-communicable diseases should consider regulations that mandate
nutritional labelling of fast foods, to assist consumers in making informed dietary choices.

Keywords: Fast food, menu labelling, nutritional labelling, non-communicable diseases, obesity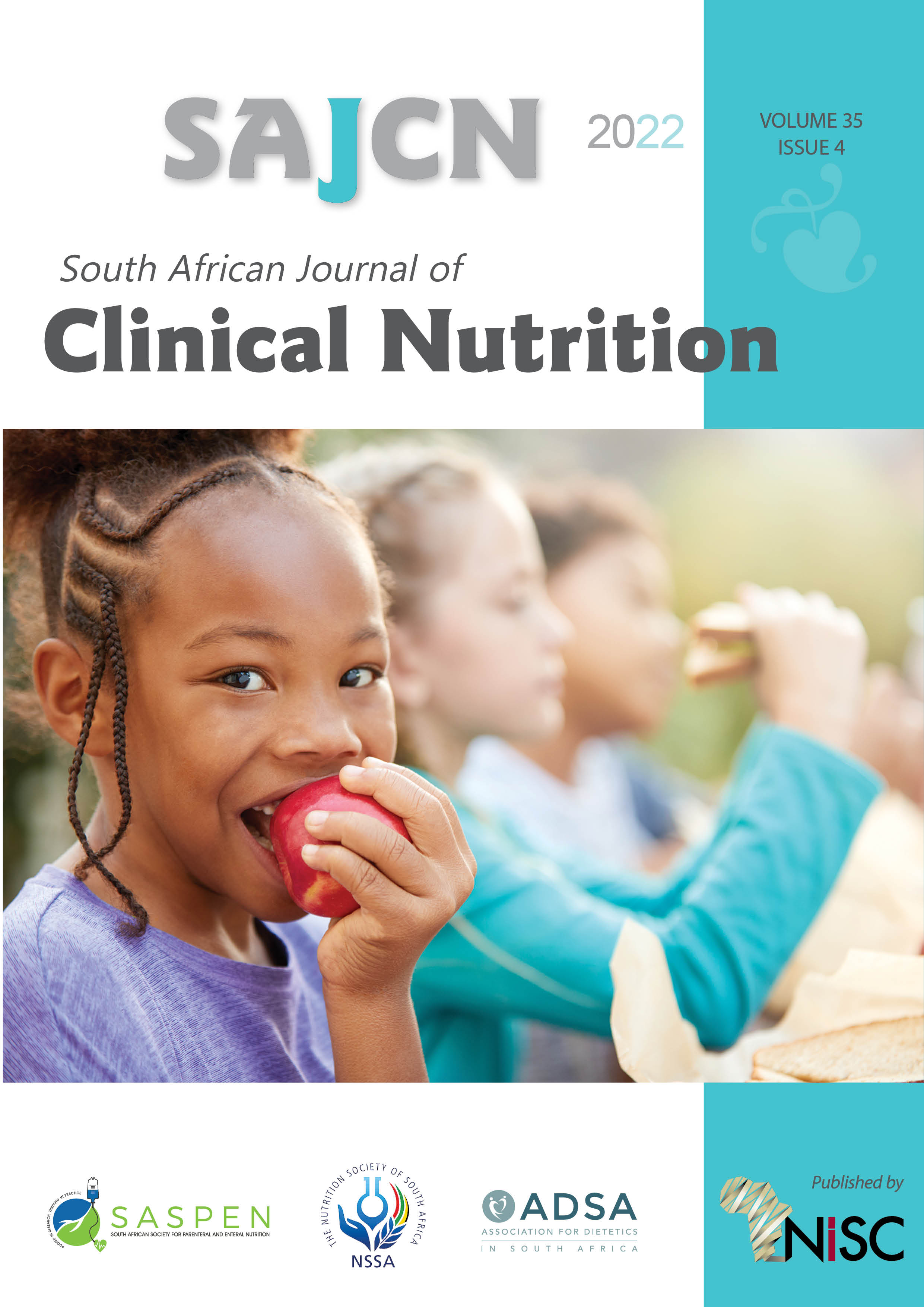 How to Cite
Admin, S. (2022). Should fast-food nutritional labelling in South Africa be mandatory?. South African Journal of Clinical Nutrition, 35(4), 155–161. Retrieved from http://sajcn.redbricklibrary.com/index.php/SAJCN/article/view/1634
Section
Original Research
Material submitted for publication in the South African Journal of Clinical Nutrition (SAJCN) is accepted provided it has not been published elsewhere. Copyright forms will be sent with acknowledgement of receipt and the SAJCN reserves copyright of the material published.
The SAJCN does not hold itself responsible for statements made by the authors.