Prevalence of severe acute malnutrition and its effect on under-five mortality at a regional hospital in South Africa
Abstract
Introduction: Severe acute malnutrition (SAM) is an important global and national public health concern. It contributes to under-five mortality but is also largely a preventable disease.
Objective: This study aimed to assess the prevalence of and mortality associated with SAM.
Design: A retrospective review of hospital files was conducted.
Setting: Dora Nginza Hospital, Eastern Cape, South Africa was the site of the study.
Subjects: The study included children from 6 to 59 months of age admitted to the paediatric ward between January 1, 2018 and December 31, 2018. Children with chronic disease were excluded. Ethics approval was granted by Walter Sisulu University (053/2019).
Outcome measures: Anthropometric, co-morbid and outcomes data were retrieved and analysed.
Results: A total of 1 296 children were included in the study, 93 with SAM. The prevalence of SAM was 7.2%. Children with SAM had a median age of 16 months (IQR 11–25). Gender distribution was 52 (56%) females and 41 (44%) males. The inpatient mortality rate for children with SAM was 6.5%. Children with SAM were at significantly increased risk of mortality (RR 5.97, 95% CI 3.1–11.6, p-value < 0.0005). Three factors were significantly associated with mortality: nutritional oedema, sepsis, and hypokalaemia.
Conclusion: The prevalence of SAM at Dora Nginza Hospital is high, and children with SAM are at significantly increased risk of mortality. Specific risk factors for mortality include sepsis, urinary tract infection, nutritional oedema and hypokalaemia. Modifiable factors associated with SAM and SAM-related mortality need to be targeted urgently to improve outcomes.

Keywords: severe acute malnutrition, prevalence, South Africa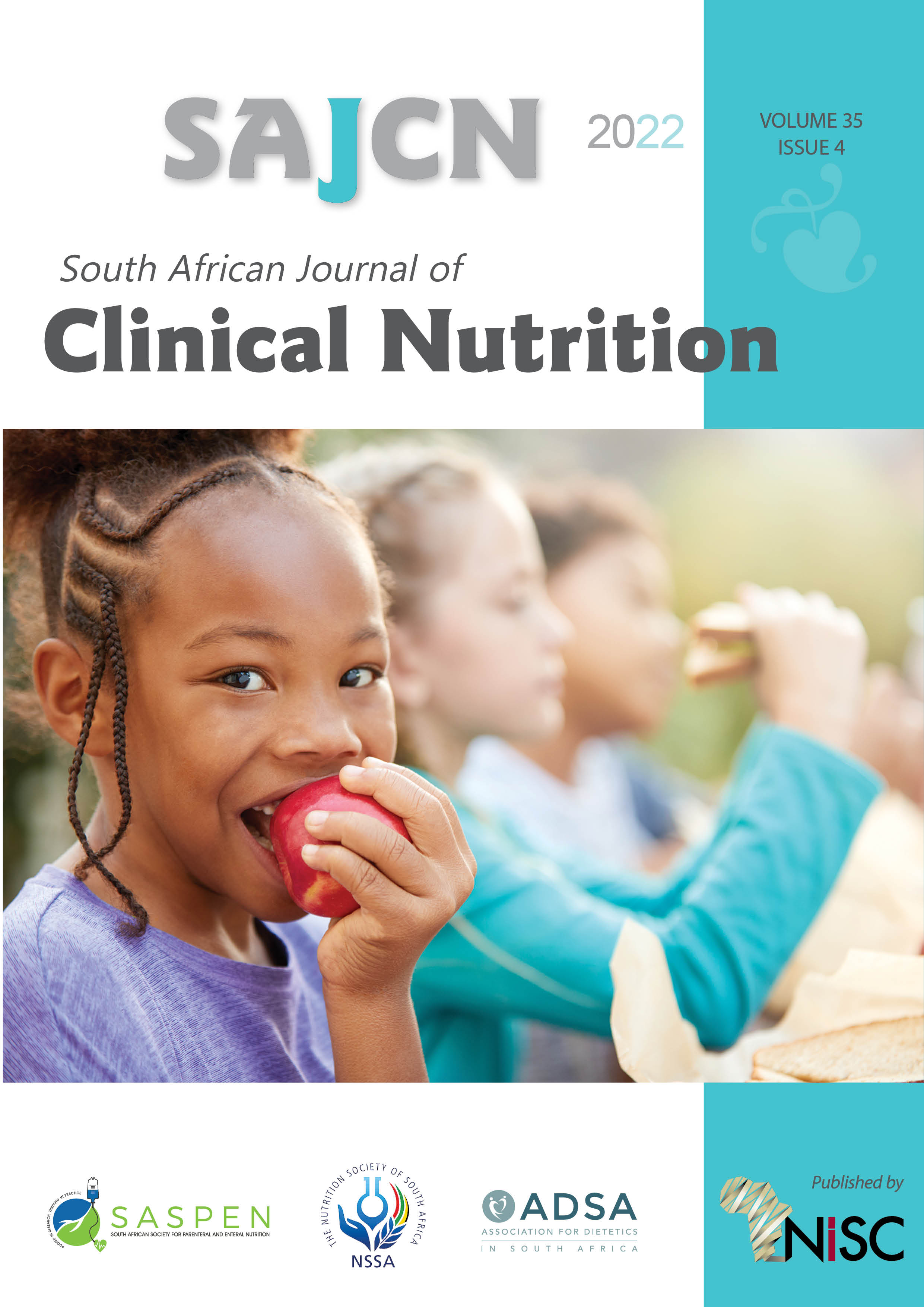 How to Cite
Mandla, N., Mackay, C., & Mda, S. (2022). Prevalence of severe acute malnutrition and its effect on under-five mortality at a regional hospital in South Africa. South African Journal of Clinical Nutrition, 35(4), 149–154. Retrieved from http://sajcn.redbricklibrary.com/index.php/SAJCN/article/view/1633
Section
Original Research
Material submitted for publication in the South African Journal of Clinical Nutrition (SAJCN) is accepted provided it has not been published elsewhere. Copyright forms will be sent with acknowledgement of receipt and the SAJCN reserves copyright of the material published.
The SAJCN does not hold itself responsible for statements made by the authors.