NSSA Newsbits
Abstract
The Western Cape branch held a symposium on noncommunicable diseases on 16 May 2019. Speakers included Prof Ebenezer Durojaye, Dr Erika Jones, Ms Bianca Tromp and Mr Abrie Eksteen. Topics covered included "The relevance of a rights-based approach to NCDs in Africa", "The kidney and salt", "Sodium reduction in foods in South Africa" and "Are we making progress, low grade inflammation and disease: The role of nutrition".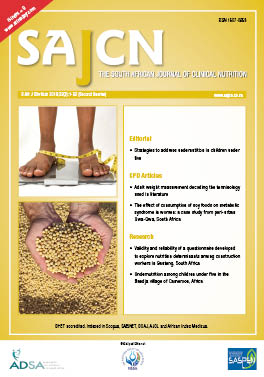 How to Cite
Office, E. (2019). NSSA Newsbits. South African Journal of Clinical Nutrition, 32(2), 32. Retrieved from http://sajcn.redbricklibrary.com/index.php/SAJCN/article/view/1397
Material submitted for publication in the South African Journal of Clinical Nutrition (SAJCN) is accepted provided it has not been published elsewhere. Copyright forms will be sent with acknowledgement of receipt and the SAJCN reserves copyright of the material published.
The SAJCN does not hold itself responsible for statements made by the authors.