Editor's note
Demetre Labadarios

Human Sciences Research Council (HSRC)
Abstract
The International Labour Organization's Social Protection Report 2014/2015 highlights the important contribution which social protection makes in addressing poverty and inequality, as well as in supporting growth and development.1 It also acknowledges the global improvement in accessing social protection, especially in middle-income countries, and identifies the lack of effective social security systems in some countries as a risk to further improvement. The report provides updates on social protection for children and families, adults and the elderly, as well as universal health coverage, and draws attention to challenges that need to be addressed, if improved access is to be achieved.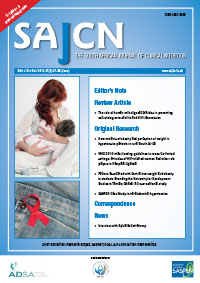 How to Cite
Labadarios, D. (1). Editor's note. South African Journal of Clinical Nutrition, 27(2), 49. Retrieved from http://sajcn.redbricklibrary.com/index.php/SAJCN/article/view/902
Material submitted for publication in the South African Journal of Clinical Nutrition (SAJCN) is accepted provided it has not been published elsewhere. Copyright forms will be sent with acknowledgement of receipt and the SAJCN reserves copyright of the material published.
The SAJCN does not hold itself responsible for statements made by the authors.