Constraints to the optimal breastfeeding practices of breastfeeding mothers in the rural communities of Arba Minch Zuria Woreda, Ethiopia: community-based, cross-sectional study
Dessalegn Tamiru

Jimma University

M Tamrat

Jimma University
Keywords:
attitudes, practices, constraints, breastfeeding, colostrum, Arba Minch Zuria Woreda
Abstract
Objective: The aim of this study was to identify the constraints and factors associated with breastfeeding practices. Design: This was a community-based, cross-sectional study. Subjects and setting: Three hundred and eighty-four breastfeeding mothers of infants aged two years and younger were randomly selected from rural communities in Arba Minch Zuria Woreda. Outcome measures: Data were collected using structured questionnaires, and from using an observation checklist and in-depth interviews. Quantitative data from binary logistic regression were used to determine the strength of association between the independent and dependent variables using odds ratios and 95% confidence intervals. Multivariate logistic regression analysis was employed to identify predictors of the delayed initiation of breastfeeding and non-exclusive breastfeeding practices. Results: Breastfeeding is considered to be a natural gift from God in Arba Minch Zuria Woreda. The delayed initiation therefof was common in this study. Only 57% of the mothers initiated breastfeeding within an hour of delivery. Some women rejected their colostrum as they considered it to be an expired substance capable of causing abdominal pain to their infants. The delayed initiation of breasfeeding was positively associated with a lack of education and failure to attend health education sessions. Thirty-one per cent of the mothers did not exclusively breastfeed their infant up to six months of age months. Non-exclusive breastfeeding was significantly associated with having a radio, attending antenatal care and attending health education. Conclusion: The promotion of strong community-based networks to ensure optimal infant and young child feeding is recommended through both governmental and non-governmental organisations.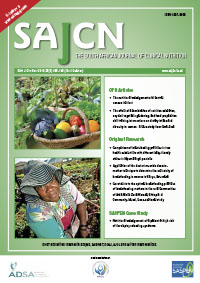 How to Cite
Tamiru, D., & Tamrat, M. (2015). Constraints to the optimal breastfeeding practices of breastfeeding mothers in the rural communities of Arba Minch Zuria Woreda, Ethiopia: community-based, cross-sectional study. South African Journal of Clinical Nutrition, 28(3), 134-139. Retrieved from http://sajcn.redbricklibrary.com/index.php/SAJCN/article/view/883
Section
Original Research
Material submitted for publication in the South African Journal of Clinical Nutrition (SAJCN) is accepted provided it has not been published elsewhere. Copyright forms will be sent with acknowledgement of receipt and the SAJCN reserves copyright of the material published.
The SAJCN does not hold itself responsible for statements made by the authors.