Nutritional management after total laryngectomy
Abstract
The patient, a 55-year-old male, was admitted to hospital on 28 September 2010 with a known diagnosis of cancer of the larynx. The patient, who underwent a total laryngectomy on 13 October, had a tracheostomy inserted previously. Prior to the surgery the patient was consuming a soft diet and oral supplementation drinks. He had no previous history of any other illnesses.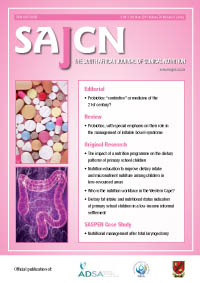 How to Cite
Ackerberg, T. (1). Nutritional management after total laryngectomy. South African Journal of Clinical Nutrition, 24(2), 107-108. Retrieved from http://sajcn.redbricklibrary.com/index.php/SAJCN/article/view/542
Section
SASPEN Case Study
Material submitted for publication in the South African Journal of Clinical Nutrition (SAJCN) is accepted provided it has not been published elsewhere. Copyright forms will be sent with acknowledgement of receipt and the SAJCN reserves copyright of the material published.
The SAJCN does not hold itself responsible for statements made by the authors.