SASPEN Case Study
Caida MacDougall

Department of Health
Abstract
The patient, a 79y old female, was admitted to hospital on 14/08/2009, with locked jaws, generalized body pain and dyspnoea. She presented with features suggestive of Tetanus, including trismus (prolonged tonic spasm of the muscles of the jaw), generalized rigidity and irregular muscle spasms. The patient had a past medical history of Type II Diabetes Mellitus and hypertension.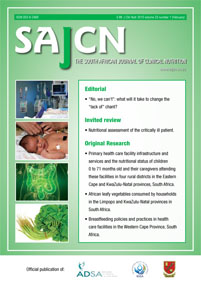 How to Cite
MacDougall, C. (2010). SASPEN Case Study. South African Journal of Clinical Nutrition, 23(1), 46-47. Retrieved from http://sajcn.redbricklibrary.com/index.php/SAJCN/article/view/399
Material submitted for publication in the South African Journal of Clinical Nutrition (SAJCN) is accepted provided it has not been published elsewhere. Copyright forms will be sent with acknowledgement of receipt and the SAJCN reserves copyright of the material published.
The SAJCN does not hold itself responsible for statements made by the authors.