A Perspective on the Inappropriate Infant Feeding Practices Observed among KwaZulu-Natal Mothers: Professional Expectations Clash with Human Nature's Realities
Noel W Solomons

Center for Studies of Sensory Impairment, Aging and Metabolism (CeSSIAM)

Olle Hernell

Olle Hernell MD, Ph D.
Keywords:
breastfeeding, professional expectations,
Abstract
"The difficult we can do right away . . . the impossible takes us a bit longer" Slogan of the U.S.Naval Engineer Seabees It is currently recommended as best public health advice that women infected with HIV prevent maternal to child transmission (MTCT) of the virus by abstaining from breastfeeding and provide exclusive replacement formula feeding as long as the latter is acceptable, feasible, affordable, sustainable and safe (AFASS); otherwise, they should choose to maintain exclusive breastfeeding (EBF) as the mode of nutrition [1].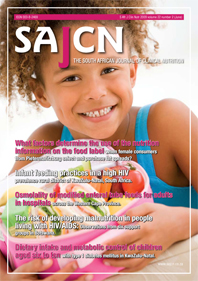 Section
Editorials, Opinions, Issues in the field of Nutrition
Material submitted for publication in the South African Journal of Clinical Nutrition (SAJCN) is accepted provided it has not been published elsewhere. Copyright forms will be sent with acknowledgement of receipt and the SAJCN reserves copyright of the material published.
The SAJCN does not hold itself responsible for statements made by the authors.