Infant feeding practices of mothers and nutritional status of infants in Vhembe District in the Limpopo Province
Lindelani F Mushaphi

University of Venda

Xikombiso G Mbhenyane

University of Venda

L B Khoza

University of Venda

A K A Amey

University of Venda
Keywords:
Infant feeding, breastfeeding, nutritional status infants
Abstract
Objective: To determine the breast-feeding and weaning practices of mothers and the nutritional status of infants in the Vhembe District of Limpopo Province. Design: A descriptive and exploratory study was done. A sample of 185 mothers with 185 infants 12 months and younger was selected from five primary healthcare clinics. A validated questionnaire, which consisted of questions relating to demographic data, breast-feeding and weaning practices, was used. The weight and length measurements of the infants were taken. Results: The majority (97%) of the mothers were still breast-feeding at the time of the interviews. Only 7,6% practised exclusive breastfeeding, however, while 43,2% had introduced solid foods at three months and 15% before two months. The weaning food given by most of the mothers was maize-meal soft porridge and had been introduced before four months of age. The Z-score classification was used and showed that stunting (18,9%), underweight (7%) and wasting (7%) were present among the infants but that only wasting was found to be a disorder of public-health significance. The nutritional status of the infants was therefore not significantly influenced by the breast-feeding and weaning practices of the mothers or other demographic parameters. Conclusion: Breast-feeding was still practised by many of the mothers but exclusive breast-feeding was rare.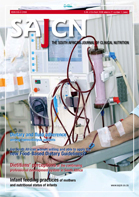 How to Cite
Mushaphi, L., Mbhenyane, X., Khoza, L., & Amey, A. (2008). Infant feeding practices of mothers and nutritional status of infants in Vhembe District in the Limpopo Province. South African Journal of Clinical Nutrition, 21(2), 36-41. Retrieved from http://sajcn.redbricklibrary.com/index.php/SAJCN/article/view/246
Section
Original Research
Material submitted for publication in the South African Journal of Clinical Nutrition (SAJCN) is accepted provided it has not been published elsewhere. Copyright forms will be sent with acknowledgement of receipt and the SAJCN reserves copyright of the material published.
The SAJCN does not hold itself responsible for statements made by the authors.