Factors influencing women's decisions to purchase specific children's micronutrient supplements
Gerda J Gericke

University of Pretoria

Tanzia Merlin

University of Pretoria

Petrus J Bekker

Medical Research Council
Abstract
Background: Faced with an extensive array of various children's multi-nutrient supplements, all with their "unique' properties and formulation, mothers are expected to select one which best meets their children's needs. Little research has been done to identify the factors women use to select a particular multinutrient supplement for their children. Aim: To establish which factors influenced women's decisions most often when selecting children's multi-nutrient supplements, what choice tactics were used in the decision making process, and what groups women could be classified into according to the factors used to select specific brands. Setting: A point-of-purchase survey was conducted among 128 women who were interviewed in large discount pharmacies once they had selected a children's multinutrient supplement with the intention of buying it. Results: This article highlights the number of respondents who were influenced by 12 factors (form, nutrient content, child's preference, packaging, price, health benefits, advice from others, free from certain ingredients, organic or natural properties, herbal content, advertisements, and promotions), which of these factors had the greatest influence on the decision to purchase, which form (chewable tablets, liquid/syrup, gums, capsules) was the most popular, which brands were most often selected, and whose advice (friends, family members, pharmacy employees, doctors, dietitians, other health professionals, teachers) was most often used as a choice tactic. The four groups which women were classified into (quality shopper/information gatherer, bargain shopper, convenience shopper, child-sensitive shopper) are specified. Conclusion: To show competence in the field of children's dietary supplements, dietitians ought to determine which factors play a role in a client's decision to purchase a particular brand, i.e. free from certain ingredients, etc., and whether their children will take a particular form, e.g. syrup. Once this has been determined, and after having assessed the child's usual dietary intake, the dietitian can identify the most appropriate dietary supplement in a particular supplement delivery category. Since product information is not always read or interpreted correctly, it is important that dietetics professionals effectively communicate information to clients relating to recommended products. The information relayed to a client should be related to what is important to her in a children's multinutrient supplement.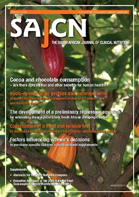 How to Cite
Gericke, G., Merlin, T., & Bekker, P. (2008). Factors influencing women's decisions to purchase specific children's micronutrient supplements. South African Journal of Clinical Nutrition, 21(3), 141-147. Retrieved from http://sajcn.redbricklibrary.com/index.php/SAJCN/article/view/212
Section
Original Research
Material submitted for publication in the South African Journal of Clinical Nutrition (SAJCN) is accepted provided it has not been published elsewhere. Copyright forms will be sent with acknowledgement of receipt and the SAJCN reserves copyright of the material published.
The SAJCN does not hold itself responsible for statements made by the authors.