Food and beverages promoting elderly health: six food-based dietary guidelines to plan good mixed meals for elderly South Africans
Sanjoy Saha

Upasana Mukherjee

Makenzie Miller

Li-ling Peng

Carin Napier

Heleen Grobbelaar

Wilna Oldewage-Theron
Abstract
Studies have shown that the elderly are at a higher risk of developing malnutrition due to physiological and pathological changes. Several studies have confirmed that older South Africans have insufficient dietary diversity, resulting in nutritional deficiencies. Furthermore, poor and uninformed dietary choices are associated with the development of several diseases and increased mortality. Following the Elderly Food Based Dietary Guidelines (EFBDGs) related to promoting elderly health could ensure that the elderly have an adequate intake of nutritious foods. This paper provides an overview of six FBDGs relating to promoting health and is based on the South African Food Based Dietary Guidelines.
Keywords: dietary diversity, elderly, fruit and vegetable intake, legumes, milk and milk products, protein foods, pulses, variety,
wholegrain foods, South Africa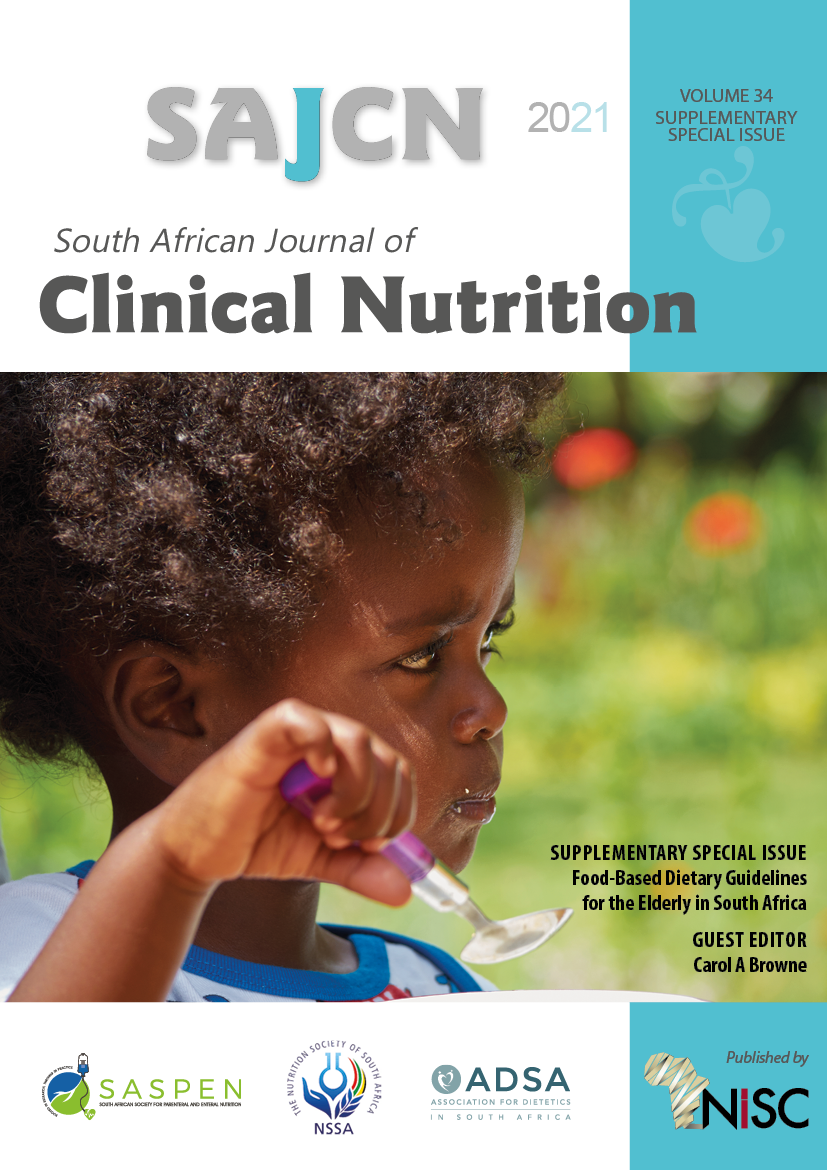 How to Cite
Saha, S., Mukherjee, U., Miller, M., Peng, L.- ling, Napier, C., Grobbelaar, H., & Oldewage-Theron, W. (2021). Food and beverages promoting elderly health: six food-based dietary guidelines to plan good mixed meals for elderly South Africans. South African Journal of Clinical Nutrition, 34, S51-S63. Retrieved from http://sajcn.redbricklibrary.com/index.php/SAJCN/article/view/1565
Section
Original Research
Material submitted for publication in the South African Journal of Clinical Nutrition (SAJCN) is accepted provided it has not been published elsewhere. Copyright forms will be sent with acknowledgement of receipt and the SAJCN reserves copyright of the material published.
The SAJCN does not hold itself responsible for statements made by the authors.