Be active: a food-based dietary guideline for elderly South Africans
Sanjoy Saha

Wilna Oldewage-Theron

Carin Napier
Abstract
The goal of this paper is to support the 'Be active!' food-based dietary guideline (FBDG) for South Africans of seven years and older by means of a technical guideline regarding physical activity (PA) specifically for the elderly. Optimal nutrition and physical activity (PA) are essential to ensure healthy ageing. PA is an integral part of a healthy lifestyle; however; the rate of low PA in the elderly (59.7%) is high in South Africa (SA). Regular PA reduces the risks of chronic diseases, such as diabetes, high blood pressure, heart diseases and cancers. Therefore, this review study aims to gather available information concerning PA and suitable methods to promote PA among the elderly in SA. Lack of environmental support for PA, trainers, PA-educated caregivers, poor knowledge about the recommended level of PA and its benefits, lack of motivation by healthcare providers, poor health and nutritional status, and lack of opportunity for social engagement prevent the elderly from participating in PA. Elderly individuals without any physical challenges should participate in at least
150 minutes of moderate-intensity aerobic PA in a week, or at least 75 minutes per week of vigorous-intensity aerobic PA or an equivalent combination of both types of aerobic PA. It is better to start PA slowly and increase the duration and frequency gradually. Even those who have some disease limitations should try to change their status from 'inactive or no activity' to 'some level of activity' to enjoy the health benefits of PA. More research and programmes focusing on promotion of PA need to be implemented in order to improve PA among the elderly in SA.
Keywords: elderly, physical activity, health, chronic diseases, South Africa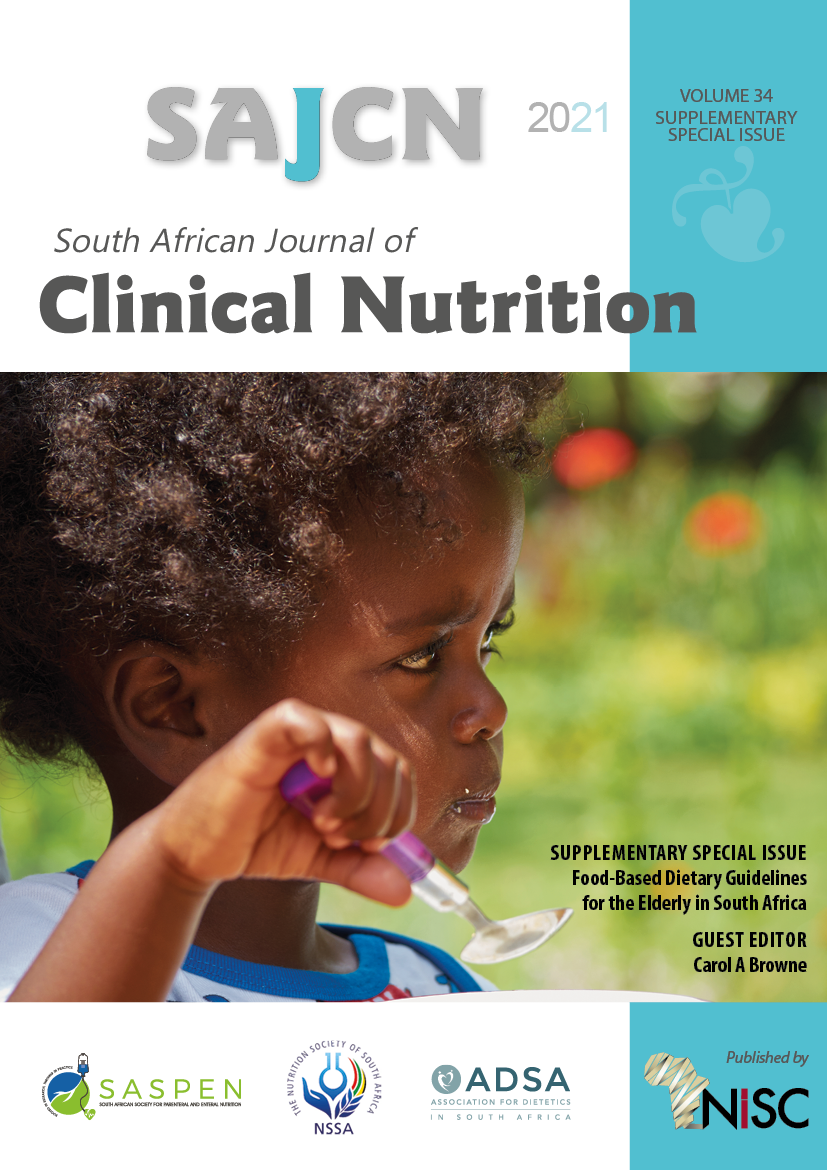 How to Cite
Saha, S., Oldewage-Theron, W., & Napier, C. (2021). Be active: a food-based dietary guideline for elderly South Africans. South African Journal of Clinical Nutrition, 34, S21-S26. Retrieved from http://sajcn.redbricklibrary.com/index.php/SAJCN/article/view/1562
Section
Original Research
Material submitted for publication in the South African Journal of Clinical Nutrition (SAJCN) is accepted provided it has not been published elsewhere. Copyright forms will be sent with acknowledgement of receipt and the SAJCN reserves copyright of the material published.
The SAJCN does not hold itself responsible for statements made by the authors.