If you drink alcohol, drink sensibly: a food-based dietary guideline for the elderly in South Africa
Rufus Theophilus

Carin Napier

Wilna Oldewage-Theron
Abstract
The use and misuse of alcohol has become a public health problem among the South African (SA) elderly population, among whom risky drinking is a common practice. Previous publications encouraging alcohol use have referred to two supposedly beneficial effects of alcohol, categorised as: (1) cardioprotective and haemostatic; and (2) promoting a positive balance in iron status. However, more recent evidence has weakened these assertions for all age groups as the disadvantages of alcohol use far outweigh these benefits. Some of these disadvantages can cause severe medical and physical harm to the elderly. Attempts to curb risky drinking among the SA elderly must be adopted through screening by clinicians during consultations, use of various screening and diagnostic tools available for addressing alcohol use and abuse, and exploiting the channels of alcohol exposure for appropriate interventions. Elderly populations are vulnerable to alcohol misuse irrespective of their consumption patterns or levels of use because of their ageing condition and the interaction of alcohol with medication. Therefore, there is a need to sensitise the SA elderly population on the risk posed by alcohol use, misuse or abuse, hence the FBDG 'If you drink alcohol, drink sensibly'.
Keywords: elderly, food based dietary guidelines, alcohol intake, South Africa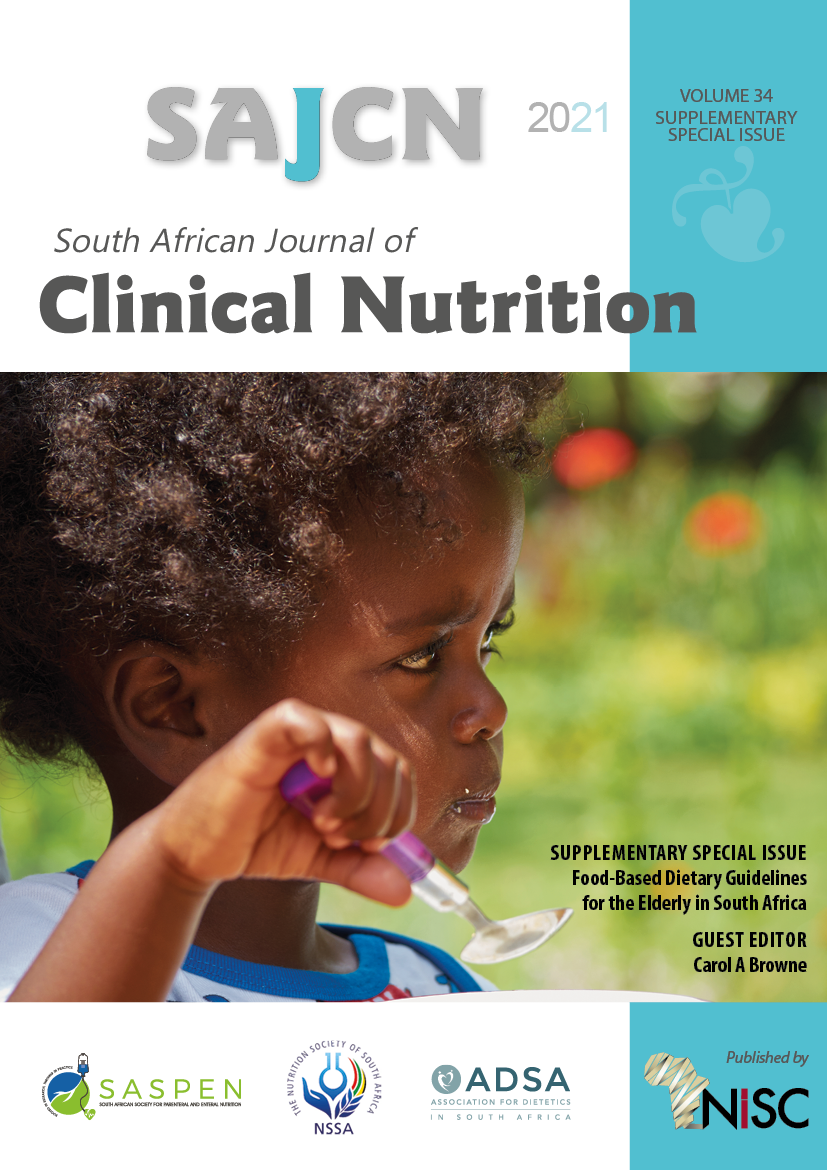 How to Cite
Theophilus, R., Napier, C., & Oldewage-Theron, W. (2021). If you drink alcohol, drink sensibly: a food-based dietary guideline for the elderly in South Africa. South African Journal of Clinical Nutrition, 34, S15-S20. Retrieved from http://sajcn.redbricklibrary.com/index.php/SAJCN/article/view/1561
Section
Original Research
Material submitted for publication in the South African Journal of Clinical Nutrition (SAJCN) is accepted provided it has not been published elsewhere. Copyright forms will be sent with acknowledgement of receipt and the SAJCN reserves copyright of the material published.
The SAJCN does not hold itself responsible for statements made by the authors.