Management of school nutrition programmes to improve environmental justice in schools: a South African case study
Ailwei Mawela

University of South Africa

Geesje Van den Berg

University of South Africa
Keywords:
environmental justice, healthy environment, management, nutrition coordinators, school nutrition programmes, school principals
Abstract
Objective: The objective of this study was to determine how school principals and nutrition coordinators see their roles in the management of school nutrition programmes for learners from disadvantaged communities.
Design: In this qualitative study, a single case study design was used to collect data through open-ended questionnaires, follow-up interviews and field notes.
Subjects and setting: Principals and nutrition coordinators at five primary schools and three secondary township schools in Alexandra.
Results: The findings highlight the importance of school nutrition programmes in contributing to a healthy learning environment. Principals and nutrition coordinators were clear about their management roles and responsibilities in the programme. The biggest challenges were the work overload of nutrition coordinators, a lack of training and inadequate food delivery.
Conclusion: Based on the findings, the study recommends the implementation of a training programme for school principals and nutrition coordinators on time and human resource management to assist them in balancing teaching time and the management of food handlers, the appointment of a nutrition coordinator and collaboration with non-government organisations, volunteers and businesses to assist schools. Finally, this study reveals that the struggle for environmental justice to address shortage of nutritious food to feed needy learners remains valid and that school nutrition programmes, if managed properly, can make a crucial contribution in this regard.
The full article is available at https://doi.org/10.1080/16070658.2018.1507208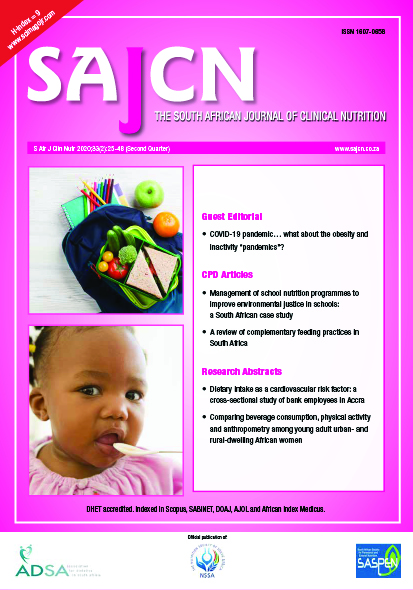 How to Cite
Mawela, A., & Van den Berg, G. (2020). Management of school nutrition programmes to improve environmental justice in schools: a South African case study. South African Journal of Clinical Nutrition, 33(2), 31-36. Retrieved from http://sajcn.redbricklibrary.com/index.php/SAJCN/article/view/1473
Section
Original Research
Material submitted for publication in the South African Journal of Clinical Nutrition (SAJCN) is accepted provided it has not been published elsewhere. Copyright forms will be sent with acknowledgement of receipt and the SAJCN reserves copyright of the material published.
The SAJCN does not hold itself responsible for statements made by the authors.