NSSA newsbits
Abstract
The year 2020 will be remembered for many years to come – the massive disruption of normality in business, education, transaction, social interaction and, most important to us as nutrition professionals, health. The massive spread of SARS-CoV2 has brought the world to a standstill and mass gatherings are cancelled or postponed. Mass gatherings in the form of conferences are not only an exciting way to listen to the leaders in our field, but also a fantastic networking opportunity and a means of catching up with colleagues and friends that have been dearly missed. It is therefore disappointing that we have been compelled to postpone the International Congress of Dietetics (ICD2020), which this year was the format for our biennial congress hosted in collaboration with ADSA. Details of the postponement will be communicated to you via NSSA and ADSA as well as future Newsbits in the SAJCN. Nonetheless, we are looking forward to the congress and contributions from researchers, practitioners and postgraduate students in the field of nutrition from all over the world.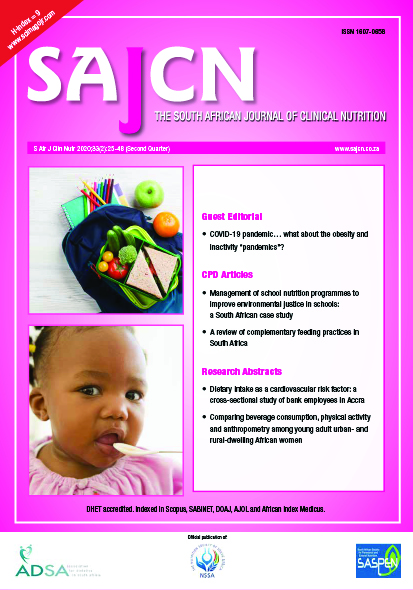 How to Cite
Symmington, E. (2020). NSSA newsbits. South African Journal of Clinical Nutrition, 33(2), 47. Retrieved from http://sajcn.redbricklibrary.com/index.php/SAJCN/article/view/1461
Material submitted for publication in the South African Journal of Clinical Nutrition (SAJCN) is accepted provided it has not been published elsewhere. Copyright forms will be sent with acknowledgement of receipt and the SAJCN reserves copyright of the material published.
The SAJCN does not hold itself responsible for statements made by the authors.