Acceptability of a moringa-added complementary soft porridge to caregivers in Hammanskraal, Gauteng province and Lebowakgomo, Limpopo province, South Africa
Sithandiwe Ntila

University of KwaZulu-Natal

Ashwell R Ndhlala

Agricultural Research Council

Unathi Kolanisi

University of Zululand

Hafiz Abdelgadir

Agricultural Research Council

Muthulisi Siwela

University of KwaZulu-Natal
Keywords:
Caregivers, Complementary soft porridge, Moringa leaf powder, Sensory evaluation
Abstract
Objectives: This study determined caregivers' (mothers') acceptability and perceptions of a soft, white maize porridge (traditional complementary food (TCF)) that was modified by substituting maize meal with Moringa oleifera Lam. leaf powder at different levels, 1%, 2% and 3% weight for weight (w/w).
Design: A cross-sectional study was conducted.
Setting: The study was conducted in Stinkwater, Hammanskraal, Gauteng province (25° 23' 59.99" S: 28° 16' 60.00" E) and Ga-Mphahlele village, Lebowakgomo, Limpopo province (24°18'0.83"S: 29°32'33.61"E), South Africa. 
Subjects: Sixty mothers were sampled, separately, from Hammanskraal and Lebowakgomo communities.
Outcome measures: The sensory acceptability of the complementary soft porridges was evaluated by caregivers from Hammanskraal and Lebowakgomo communities using a five-point facial hedonic scale (n = 60 per study area). A series of three focus-group discussions were conducted per study area (n = 12 persons per group) to assess caregivers' perceptions on the inclusion of moringa in complementary foods.
Results: Sensory evaluation results showed that the acceptability of the two traditional complementary foods decreased as the level of moringa leaf powder increased. Caregivers indicated in the focus-group discussions that moringa-based soft porridges had a bitter taste, which would not be suitable for children. Only the Lebowakgomo modified traditional complementary food (MTCF) containing 1% of moringa was rated similar in overall acceptability to the corresponding TCF (control). Nevertheless, all caregivers expressed willingness to use moringa in complementary foods provided they would be trained on how to process it. 
Conclusions: Varying product formulation and processing methods may contribute to increased acceptability of moringa-based foods. Overall, moringa appears to have the potential for use in complementary foods.
The full article is available at https://doi.org/10.1080/16070658.2018.1449377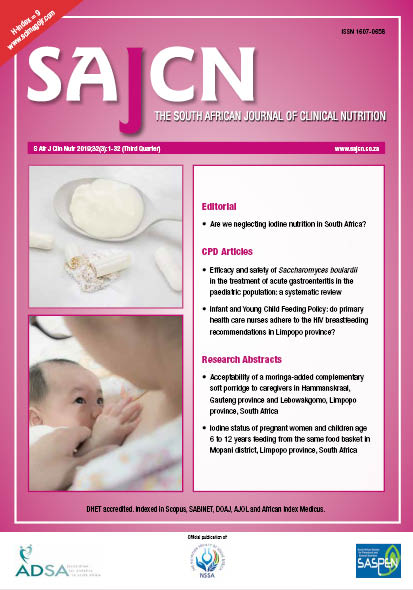 How to Cite
Ntila, S., Ndhlala, A., Kolanisi, U., Abdelgadir, H., & Siwela, M. (2019). Acceptability of a moringa-added complementary soft porridge to caregivers in Hammanskraal, Gauteng province and Lebowakgomo, Limpopo province, South Africa. South African Journal of Clinical Nutrition, 32(3), 27. Retrieved from http://sajcn.redbricklibrary.com/index.php/SAJCN/article/view/1419
Section
Original Research
Material submitted for publication in the South African Journal of Clinical Nutrition (SAJCN) is accepted provided it has not been published elsewhere. Copyright forms will be sent with acknowledgement of receipt and the SAJCN reserves copyright of the material published.
The SAJCN does not hold itself responsible for statements made by the authors.