SASPEN News
Abstract
The SASPEN PM Ward Round Club hosted many successful events over the course of the year. The programme kicked off in February with a presentation by Gina Fourie on the nutritional management of patients' pre- and post-bariatric surgery. This is a very challenging patient group and we certainly learned a lot. In March the event focused on the management of patients with coeliac and non-coeliac gluten sensitivity with an excellent presentation by Heather Harmsen. For the April meeting the focus shifted back to the management of the intensive care patients with a presentation by Prof Ivan Joubert and Anna-Lena du Toit. The patient presented in this meeting developed intestinal failure related to lupus and presented many challenges in terms of nutritional support and electrolyte balance. The club enjoyed a very practical and informative session on the management of oncology patients presented by Berna Harmse in May. We just realise again what a difference nutritional support can make in the quality of life and outcome of this vulnerable patient group. Not forgetting about the small things, we looked at the management of short bowel syndrome in the paediatric population for the June meeting. Bernadette Saayman did an excellent presentation that touched on the theory and all the important points that need to be considered in these complex cases. She ended off the presentation on a practical note with two case studies. If you would like to join the SASPEN PM Ward Round please visit our website.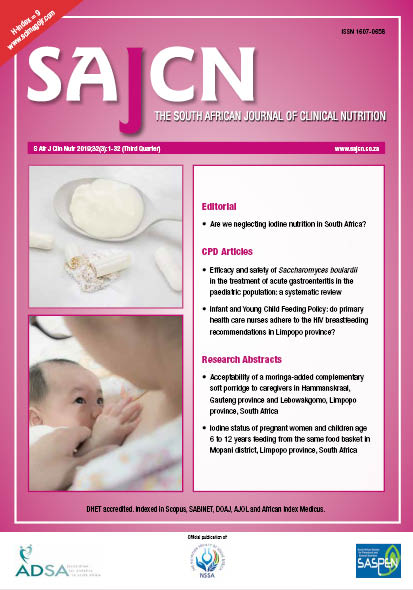 How to Cite
Office, E. (2019). SASPEN News. South African Journal of Clinical Nutrition, 32(3), 31. Retrieved from http://sajcn.redbricklibrary.com/index.php/SAJCN/article/view/1408
Material submitted for publication in the South African Journal of Clinical Nutrition (SAJCN) is accepted provided it has not been published elsewhere. Copyright forms will be sent with acknowledgement of receipt and the SAJCN reserves copyright of the material published.
The SAJCN does not hold itself responsible for statements made by the authors.