Undernutrition among children under five in the Bandja village of Cameroon, Africa
Léonie Dapi Nzefa

University of Yaoundé

Francisca Monebenimp

University of Yaoundé

Christofer Äng

Umeå University
Keywords:
Cameroon, children under five, stunting, underweight, wasting
Abstract
Background: Sub-Saharan Africa has a long history of struggling with child undernutrition. The prevalence of undernutrition is still high and knowledge about this public health problem and the underlying causes is essential for children's health.
Aim: To evaluate the anthropometric status of children under five in the Bandja village of Cameroon.
Methods: A cross-sectional study was undertaken that included 388 children. Undernutrition was evaluated in terms of wasting, stunting and underweight. Information on sex, age, birth order, birth interval, duration of breastfeeding, and mother's age at birth, occupation and educational level were collected.
Results: The prevalence of wasting, stunting and underweight was 3.2%, 16.4% and 5.2%, respectively. Boys were more stunted than girls (OR 2.24; 95% CI 1.16–4.34). Children less than 30 months were more often wasted than older children (OR 17.70; 95% CI 1.82–172.40). The first and second born in order were more stunted than the third or later born in order (OR 2.06; 95% CI 1.02–4.18). Children of farming mothers were more often stunted (OR 2.87; 95% CI 1.35–6.13) and underweight (OR 3.47; 95% CI 1.09–11.09) than others. Children still being breastfed were more underweight (OR 6.52; 95% CI 1.31–32.43) than those whose mothers had finished breastfeeding.
Conclusion: Undernutrition is highly prevalent in Bandja, and is more common among boys, younger children, first born in order, children still being breastfed and children of farming mothers. This study underlines the importance of intervention to prevent and reduce undernutrition among children.
The full article is available at https://doi.org/10.1080/16070658.2018.1448503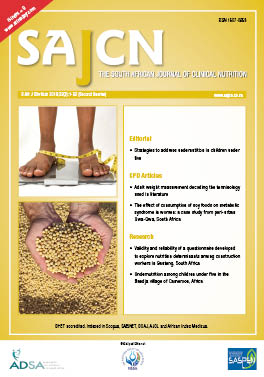 How to Cite
Nzefa, L., Monebenimp, F., & Äng, C. (2019). Undernutrition among children under five in the Bandja village of Cameroon, Africa. South African Journal of Clinical Nutrition, 32(2), 26-30. Retrieved from http://sajcn.redbricklibrary.com/index.php/SAJCN/article/view/1406
Section
Original Research
Material submitted for publication in the South African Journal of Clinical Nutrition (SAJCN) is accepted provided it has not been published elsewhere. Copyright forms will be sent with acknowledgement of receipt and the SAJCN reserves copyright of the material published.
The SAJCN does not hold itself responsible for statements made by the authors.