Editor's Note
Abstract
The current publishing contract with MedPharm expired and has been the subject of protracted negotiations for its renewal since November 2018. Despite the greater visibility achieved by publishing the SAJCN on the Taylor and Francis environment, the cost-effectiveness of the current financing model used is being reviewed with the aim of attaining improved cost outcomes. The negotiations are on going and the information provided is being discussed by the SAJCN's Editorial Board and, once completed, new proposals will also be discussed with the SAJCN's Management Board before a final decision is made.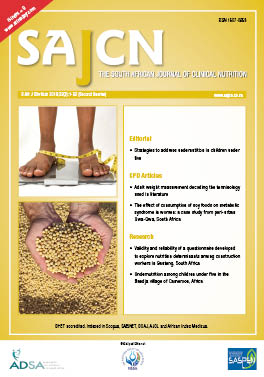 How to Cite
Labadarios, D. (2019). Editor's Note. South African Journal of Clinical Nutrition, 32(2), 2. Retrieved from http://sajcn.redbricklibrary.com/index.php/SAJCN/article/view/1398
Material submitted for publication in the South African Journal of Clinical Nutrition (SAJCN) is accepted provided it has not been published elsewhere. Copyright forms will be sent with acknowledgement of receipt and the SAJCN reserves copyright of the material published.
The SAJCN does not hold itself responsible for statements made by the authors.