SASPEN News
Editorial Office

Medpharm Publications
Abstract
The South African Society for Parenteral and Enteral Nutrition would like to wish all members a wonderful new year. SASPEN has something to celebrate this year. We are turning 30 years old!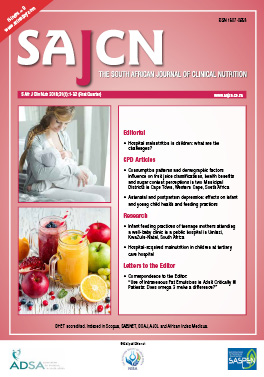 Material submitted for publication in the South African Journal of Clinical Nutrition (SAJCN) is accepted provided it has not been published elsewhere. Copyright forms will be sent with acknowledgement of receipt and the SAJCN reserves copyright of the material published.
The SAJCN does not hold itself responsible for statements made by the authors.