ADSA Directions
Editorial Office

Medpharm Publications
Abstract
The call for all members to participate in nominating members to the new ADSA Executive Committee (term of Office June 2017–June 2019) was made via our weekly mailer on 21 April, 4 May and 10 May. The constitution states that the Executive Committee of the Association shall be composed of immediate previous or present members of the Branch and Executive Committees. The Executive Committee, along with the Management Committee, serves the members to uphold the vision and mission of ADSA. The responsibilities of the various portfolios are outlined in the constitution which can be found on the ADSA website (www.adsa.org.za).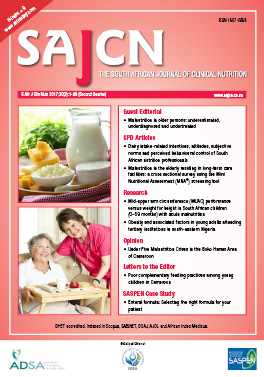 How to Cite
Office, E. (2017). ADSA Directions. South African Journal of Clinical Nutrition, 30(2), 48. Retrieved from http://sajcn.redbricklibrary.com/index.php/SAJCN/article/view/1251
Material submitted for publication in the South African Journal of Clinical Nutrition (SAJCN) is accepted provided it has not been published elsewhere. Copyright forms will be sent with acknowledgement of receipt and the SAJCN reserves copyright of the material published.
The SAJCN does not hold itself responsible for statements made by the authors.