SASPEN News
Editorial Office

Medpharm Publications
Abstract
nutritionDay is a worldwide initiative from the European Society for Clinical Nutrition and Metabolism (ESPEN) to fight malnutrition in institutions, including intensive care units, hospital wards and nursing homes. nutritionDay will take place on 9 November 2017. South Africa has never participated in this initiative. Implementing nutritionDay in South Africa in 2017 is a major focus for SASPEN and ENASA. The biggest stumbling block in this process remains obtaining ethics approval for institutions to participate. Therefore it is of utmost importance that institutions willing to participate are identified urgently to start the ethics approval process. SASPEN, with support from ENASA, will guide the process once institutions are identified and both organisations will be involved in the implementation of nutritionDay and provide assistance in the form of human resources and stationary for data collection. To learn more about nutritionDay please visit www.nutritionday.org. If you are interested in participating, please contact a SASPEN representative, via our website or any of our social media platforms.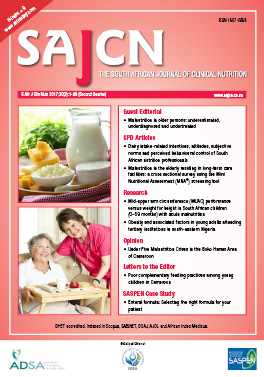 How to Cite
Office, E. (2017). SASPEN News. South African Journal of Clinical Nutrition, 30(2), 46. Retrieved from http://sajcn.redbricklibrary.com/index.php/SAJCN/article/view/1250
Material submitted for publication in the South African Journal of Clinical Nutrition (SAJCN) is accepted provided it has not been published elsewhere. Copyright forms will be sent with acknowledgement of receipt and the SAJCN reserves copyright of the material published.
The SAJCN does not hold itself responsible for statements made by the authors.