Poor complementary feeding practices among young children in Cameroon
Samuel Nambile Cumber

University of KwaZulu-Natal

Nancy Bongkiynuy

Under Privilege Children and Women Assistance (UPCAWA-SWEDEN)

Shalom Jaila

Under Privilege Children and Women Assistance (UPCAWA-SWEDEN)

Joyce Mahlako Tsoka-Gwegweni

University of KwaZulu-Natal
Keywords:
Feeding, Practice, Children
Abstract
Globally, 6.9 million children below the age of five years died in 2011, and 33% of these deaths are linked to malnutrition.1 Nutrition plays a vital role in the development and health of children.2 Children during the first two years of life are particularly vulnerable to growth retardation, micronutrient deficiencies, and common childhood illnesses such as diarrhoea and acute respiratory infections.3,4 Insufficient quantities and inadequate quality of complementary foods, poor child-feeding practices and high rates of infections have a detrimental impact on health and growth during the first two years of life.5 Children, even after receiving optimum breastfeeding, will become stunted if they do not receive sufficient quantities of quality complementary foods after six months of age.6 Despite the fight against malnutrition in Cameroon, infant and young child feeding (IYCF) practices are generally poor and appear not to have improved due to poor education of parents/caregivers, cultural practices and poverty.3,7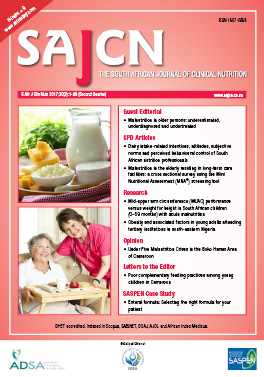 How to Cite
Cumber, S., Bongkiynuy, N., Jaila, S., & Tsoka-Gwegweni, J. (2017). Poor complementary feeding practices among young children in Cameroon. South African Journal of Clinical Nutrition, 30(2), 37-38. Retrieved from http://sajcn.redbricklibrary.com/index.php/SAJCN/article/view/1202
Section
Letters to the Editor
Material submitted for publication in the South African Journal of Clinical Nutrition (SAJCN) is accepted provided it has not been published elsewhere. Copyright forms will be sent with acknowledgement of receipt and the SAJCN reserves copyright of the material published.
The SAJCN does not hold itself responsible for statements made by the authors.