Consumption patterns and demographic factors influence on fruit juice classifications, health benefits and sugar content perceptions in two Municipal Districts in Cape Town, Western Cape, South Africa
Keywords:
consumer perceptions, fruit juice, fruit juice classifications, health benefits, sugar content
Abstract
Objectives:
The study ascertained consumer perceptions of differences between fruit juice classifications regarding their respective health benefits and sugar content. The research also considered the influence of consumption patterns and demographic factors.
Design:
A cross-sectional quantitative study design was used via a structured self-administered questionnaire.
Setting:
Fruit juice consumers (aged 16 – 66+; male and females; adolescent and adults; Black, Coloured, White, Indian and Asian) who resided in the Western Cape in the City of Cape Town and Cape Winelands municipal districts.
Subjects:
A sample of 7 640 fruit juice consumers.
Outcome measures:
Fruit juice consumer consumption patterns, fruit juice classifications perceptions and demographic factors were evaluated by means of a generalised linear model (GLM).
Results:
The majority of respondents agreed that there was a difference between fruit juice classifications. Respondents who consumed fruit juice with higher regularity; drank more fruit juice; bottled and tap water; wanted a decrease in prices and increase in information on fruit juice nutrition/health benefits had favourable perceptions. Black or Coloured respondents and those who were single; female consumers; had higher education levels; and, had a household income volunteered the most favourable perceptions.
Conclusions:
Based on the results, it can be concluded that consumers are erudite about the differences, health benefits and sugar content of fruit juice classifications. A number of consumption patterns and demographic factors also had an influence on consumer perceptions; hence, increased information should be disseminated to encourage South African consumers to pursue healthy balanced diets. (Full text available online at
www.medpharm.tandfonline.com/ojcn
) South Afr J Clin Nutr 2018;
DOI: 10.1080/16070658.2017.1342950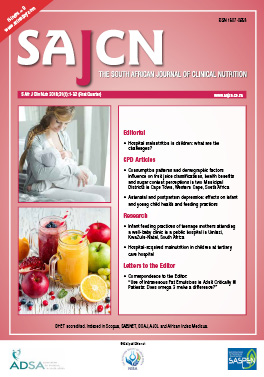 Material submitted for publication in the South African Journal of Clinical Nutrition (SAJCN) is accepted provided it has not been published elsewhere. Copyright forms will be sent with acknowledgement of receipt and the SAJCN reserves copyright of the material published.
The SAJCN does not hold itself responsible for statements made by the authors.