Under five malnutrition crises in the Boko Haram area of Cameroon
Samuel Nambile Cumber

University of KwaZulu-Natal

Joyce Mahlako Tsoka-Gwegweni

University of KwaZulu-Natal

Nancy Bongkiynuy

Under Privilege Children and Women Assistance (UPCAWA-SWEDEN)

Shalom Jaila

Under Privilege Children and Women Assistance (UPCAWA-SWEDEN)
Keywords:
Boko-Haram, Cameroon, crises, malnutrition
Abstract
Boko-Haram has increased their attacks along the Cameroon boarder in the Far North region of Cameroon since 2013. The prevalence of malnutrition in the north of Cameroon is high. Regions like the Adamawa, North and Far North regions have a prevalence of malnutrition of 5.2%, 6.7%, 9.0%, respectively; and, in addition to that, 1289 children have been admitted for therapeutic care due to malnutrition from the above regions. This crisis has an impact on access to livelihoods, because insecurity reduces access for farmers to harvest and impacts the upcoming sowing season, which has a direct impact on nutrition. Furthermore, the frequent attacks and displacement of persons in the Far North of Cameroon goes hand-in-hand with other issues, such as water shortage, shelter, food shortages and limitations to other basic needs.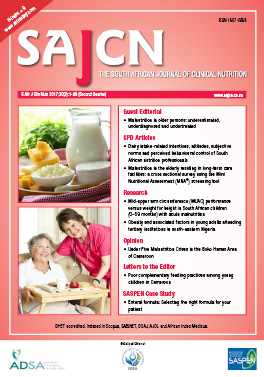 How to Cite
Cumber, S., Tsoka-Gwegweni, J., Bongkiynuy, N., & Jaila, S. (2017). Under five malnutrition crises in the Boko Haram area of Cameroon. South African Journal of Clinical Nutrition, 30(2), 35-36. Retrieved from http://sajcn.redbricklibrary.com/index.php/SAJCN/article/view/1164
Section
Editorials, Opinions, Issues in the field of Nutrition
Material submitted for publication in the South African Journal of Clinical Nutrition (SAJCN) is accepted provided it has not been published elsewhere. Copyright forms will be sent with acknowledgement of receipt and the SAJCN reserves copyright of the material published.
The SAJCN does not hold itself responsible for statements made by the authors.