The dietary management of irritable bowel syndrome
Berna Harmse

Dianne Ivison

Panorama Mediclinic
Keywords:
irritable bowel syndrome, functional gastrointestinal disorders, FODMAPs, probiotics
Abstract
Irritable bowel syndrome (IBS) is a disorder defined by the presence of recurring episodes of abdominal pain in association with altered bowel habits and no evidence of a structural or easily identifiable biochemical abnormality that might explain these symptoms.1 IBS affects up to 20% of the population, making it a fairly common gastrointestinal (GI) disorder, and affects more women than men. As a chronic, functional GI disorder, it significantly decreases patients' quality of life.1-3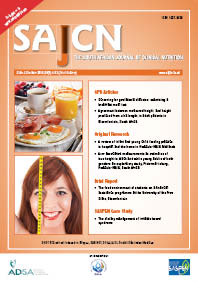 How to Cite
Harmse, B., & Ivison, D. (1). The dietary management of irritable bowel syndrome. South African Journal of Clinical Nutrition, 29(3), 38-44. Retrieved from http://sajcn.redbricklibrary.com/index.php/SAJCN/article/view/1151
Section
SASPEN Case Study
Material submitted for publication in the South African Journal of Clinical Nutrition (SAJCN) is accepted provided it has not been published elsewhere. Copyright forms will be sent with acknowledgement of receipt and the SAJCN reserves copyright of the material published.
The SAJCN does not hold itself responsible for statements made by the authors.