Dairy intake-related intentions, attitudes, subjective norms and perceived behavioural control of South African nutrition professionals
Friedeburg AM Wenhold

University of Pretoria

Zelda White

University of Pretoria
Keywords:
Dairy intake, nutrition professionals, Theory of Planned Behaviour
Abstract
Background:
Intake of dairy-related nutrients of South Africans is low. Nutrition professionals may influence dietary behaviour. Their own disposition related to dairy is unknown, yet important in promoting the "have milk, maas or yoghurt every day" guideline.
Aim:
Guided by the Theory of Planned Behaviour (TPB), this study aimed to describe determinants of target behaviour of consumption of 2–3 servings of dairy daily among nutrition professionals.
Methods:
An electronic survey (Qualtrics Online Survey Software) of conveniently sampled Association for Dietetics in South Africa (ADSA) and Nutrition Society of South Africa (NSSA) members determined their dairy-related behaviour, intentions, attitudes, subjective norms and perceived behavioural control regarding dairy in general, and of milk, maas, yoghurt and cheese.
Results:
Three hundred and six (306) responses (aged 36.4 ± 10.5 years) were received. A third of nutrition professionals reported that their daily dairy intake was 2–3 servings 4–6 times per week, yet over 40% met the target once per week or less often. Intake differed across products. Intention to consume the target was high (5.2 ± 0.12; scale 1–7). Attitudinal evaluations revealed highest belief scores related to nutritional quality and bone health. Associations with cancer development, diabetes and the environment were believed to be least likely. Professional training and scientific evidence emerged as the strongest subjective norms. Nutrition professionals perceived themselves to be in control of the target behaviour, yet their clients significantly less so (p < 0.0001).
Conclusion:
Nutrition professionals' attitudes, subjective norms and behavioural control can aid responsive empowerment to support dairy-related nutrition education of South Africans. (Full text available online at
www.medpharm.tandfonline.com/ojcn
) South Afr J Clin Nutr 2017;
DOI: 10.1080/16070658.2016.1248052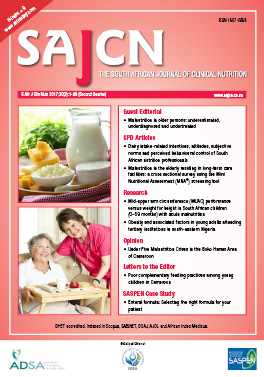 How to Cite
Wenhold, F., & White, Z. (2017). Dairy intake-related intentions, attitudes, subjective norms and perceived behavioural control of South African nutrition professionals. South African Journal of Clinical Nutrition, 30(2), 7-15. Retrieved from http://sajcn.redbricklibrary.com/index.php/SAJCN/article/view/1135
Section
Original Research
Material submitted for publication in the South African Journal of Clinical Nutrition (SAJCN) is accepted provided it has not been published elsewhere. Copyright forms will be sent with acknowledgement of receipt and the SAJCN reserves copyright of the material published.
The SAJCN does not hold itself responsible for statements made by the authors.