Obesity and associated factors in young adults attending tertiary institutions in south-eastern Nigeria
Patricia Ogechi Ukegbu

Michael Okpara University of Agriculture

Ada Charity Uwaegbute

Michael Okpara University of Agriculture

Chinyere Akudo Echendu

Michael Okpara University of Agriculture

Chukwunonso Charles Ejike

Michael Okpara University of Agriculture

Julie Uche Anyika-Elekeh

Michael Okpara University of Agriculture

Victoria Uzoamaka Asumugha

Michael Okpara University of Agriculture

Solomon Abasiekong Kuyik

Michael Okpara University of Agriculture

Shola Omodamiro

Michael Okpara University of Agriculture

Blessing Nwofia

Michael Okpara University of Agriculture

Chinwe Uzokwe

Michael Okpara University of Agriculture

Chidinma Oluchi Nliam

Michael Okpara University of Agriculture

Nnenna Uwakwe

Michael Okpara University of Agriculture
Keywords:
Association, obesity, overweight, socio-demographic factors, young adults
Abstract
Objective:
To assess prevalence of overweight/obesity and associated factors in a group of university undergraduates in south-east Nigeria.
Design:
Cross-sectional survey.
Setting:
Five tertiary institutions in south-east Nigeria. Methods: A total of 1610 undergraduates were selected using multistage sampling. A validated questionnaire on sociodemographic, dietary and lifestyle factors was used. Variables studied included body mass index (BMI), waist:hip ratio (WHR) and blood pressure (BP). Descriptive statistics and Chi square test were used for data analyses.
Results:
Prevalence of obesity and overweight were 6.5% [4.2% males; 8.4% females (
p
< 0.05)] and 13.4% [8.4% males; 17.7% females (
p
< 0.05)], respectively. A higher prevalence of central obesity and abdominal obesity was found in the females (15.7% and 27.2%, respectively) compared to the males (1.1% and 2.4%, respectively) (
p
< 0.05). Consumption of unhealthy snack foods (
X
2
= 13.39), being a female (
X
2
= 47.91), first year student (
X
2
= 41.82), and having high systolic (
X
2
= 88.18) and diastolic (
X
2
= 10.17) BP were associated with obesity (
p
< 0.05).
Conclusions:
Prevalence of obesity was high in the studied population and, if left unchecked, portends deleterious consequences, especially with respect to the development of cardiovascular diseases. (Full text available online at
www.medpharm.tandfonline.com/ojcn
) South Afr J Clin Nutr 2017;
DOI: 10.1080/16070658.2016.1259032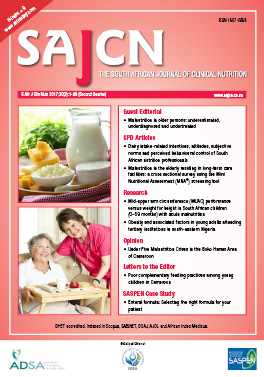 How to Cite
Ukegbu, P., Uwaegbute, A., Echendu, C., Ejike, C., Anyika-Elekeh, J., Asumugha, V., Kuyik, S., Omodamiro, S., Nwofia, B., Uzokwe, C., Nliam, C., & Uwakwe, N. (2017). Obesity and associated factors in young adults attending tertiary institutions in south-eastern Nigeria. South African Journal of Clinical Nutrition, 30(2), 29-34. Retrieved from http://sajcn.redbricklibrary.com/index.php/SAJCN/article/view/1113
Section
Original Research
Material submitted for publication in the South African Journal of Clinical Nutrition (SAJCN) is accepted provided it has not been published elsewhere. Copyright forms will be sent with acknowledgement of receipt and the SAJCN reserves copyright of the material published.
The SAJCN does not hold itself responsible for statements made by the authors.