SASPEN News
Editorial Office

Medpharm Publications
Abstract
SASPEN participated in the world's second Dietitian's week held from 8 - 12 June 2015 in collaboration with the British Dietetic Association (BDA). SASPEN participated with the theme, "Feeding those who cannot feed themselves." During dietitian's week SASPEN posted daily resources and case studies aimed at the therapeutic dietitian involved in critical care and artificial nutrition support. SASPEN would like to thank everyone for their participation on our various media platforms and the enthusiasm for the profession! We look forward to participating in this great initiative in years to come.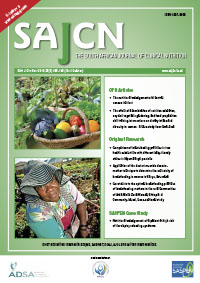 How to Cite
Office, E. (1). SASPEN News. South African Journal of Clinical Nutrition, 28(3), 146. Retrieved from http://sajcn.redbricklibrary.com/index.php/SAJCN/article/view/1053
Material submitted for publication in the South African Journal of Clinical Nutrition (SAJCN) is accepted provided it has not been published elsewhere. Copyright forms will be sent with acknowledgement of receipt and the SAJCN reserves copyright of the material published.
The SAJCN does not hold itself responsible for statements made by the authors.