Nutritional management of a patient at high risk of developing refeeding syndrome
Robin Claire Dolman

Centre of Excellence for Nutrition North-West University Potchefstroom Campus

Cornelia Conradie

Centre of Excellence for Nutrition North-West University Potchefstroom Campus

Martani J Lombard

Centre of Excellence for Nutrition North-West University Potchefstroom Campus

Arista Nienaber

Centre of Excellence for Nutrition North-West University Potchefstroom Campus

Mariaan Wicks

Centre of Excellence for Nutrition North-West University Potchefstroom Campus
Keywords:
refeeding syndrome, nasopharyngeal carcinoma, malnutrition, percutaneous endoscopic gastrostomy
Abstract
The following case study was discussed during the fourth-year dietetics evaluation process at North-West University, Potchefstroom Campus. It is a reflection of the opinion of the dietitians, students and lecturers involved, describes the actions taken during the nutritional management of the case, and is based on current literature and guidelines relevant to the topic.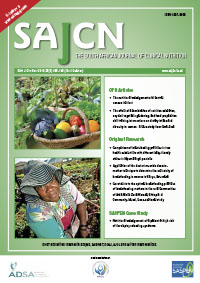 How to Cite
Dolman, R., Conradie, C., Lombard, M., Nienaber, A., & Wicks, M. (2015). Nutritional management of a patient at high risk of developing refeeding syndrome. South African Journal of Clinical Nutrition, 28(3), 140-145. Retrieved from http://sajcn.redbricklibrary.com/index.php/SAJCN/article/view/1031
Section
SASPEN Case Study
Material submitted for publication in the South African Journal of Clinical Nutrition (SAJCN) is accepted provided it has not been published elsewhere. Copyright forms will be sent with acknowledgement of receipt and the SAJCN reserves copyright of the material published.
The SAJCN does not hold itself responsible for statements made by the authors.